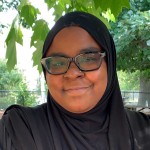 Mercedes Baskerville
Assistant Teacher
There is no better way to develop relationships with children than to speak their language.
Mercedes was drawn to work at PIC because of its diversity and atmosphere. As a PIC educator and a PIC parent (Mercedes' daughter is enrolled in the Early Learning Program), I see how children and families are a first priority.
For Mercedes, working with children means you never know what the day has in store for you. What she likes most is knowing that we can all use our imaginations together and create a day of fun. She believes that children laugh, learn, love and play, and that is how she teaches.
Mercedes lives in the Overbrook section of Philadelphia and is currently pursuing her bachelor's degree in Early Childhood Education at Eastern University. She has plans to one day create her own children's book series.
When not at PIC, Mercedes spends time with my daughter who is her greatest joy.