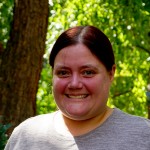 Meg Fetter
Lead Teacher
I love the Nature Playground and that the children are encouraged to explore nature through hands on experiences like playing in the mud kitchen.
Meg has worked in the field of early learning since 2006. She is inspired by children and loves how eager they are to learn new things. She loves those moments where they make connections between what they have learned, and then apply that new knowledge.
Meg has had a variety of experiences working with young children. She has worked in traditional center-based settings, been a nanny, and even joined the PGA Tour Family Center and traveled for three seasons around North America with a team of teachers providing child care for the pros.
Meg feels that a play-based, Reggio-inspired school like PIC is the best place for children to learn. She loves to explore the community with the children and go on walks to extend their learning. She also appreciates the chance the children have to explore nature.
Raised outside of Philadelphia, Meg currently lives in Roxborough. When not at PIC, she enjoys spending time with her dog Frank, her family, and friends. She also enjoys traveling, reading, and going to the theater to see local performances.