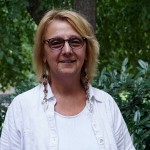 Linda Delenick
Lead Teacher and Classroom Support
In addition to working as a Lead Teacher in the After School Center's Starlight classroom, Linda is also a Program Specialist in the Early Learning program. During the PIC school year, she spends her mornings working with the younger children, engaging them in yoga and other movement activities.
Linda came to PIC after a long career with the Girl Scouts of Eastern Pennsylvania where she worked as Program Manager and Day Camp Director.
When she's not at PIC, Linda enjoys yoga, taking art classes at Fleischer Art Memorial, and volunteering for the Woodmere Art Museum, the American Red Cross, and the Schuylkill Center for Environmental Education.