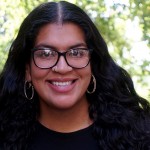 Ligia Morales-Cabal
Lead Teacher
I believe what is done in the earlier years of a child's life will greatly affect the rest of it.
Ligia Morales-Cabal likes working with children because as she says, "their happiness, enthusiasm, laughs, smiles, and silly nature are contagious."
Her passion for working with young children came from the late Bev Bos and Dr. Amy Saia. Their advocacy of play-based preschool programs has truly inspired her.
As a teacher, Ligia hopes to excite children about the world. She wants to help them discover who they are, teach them the importance of kindness, and help parents have confidence in their children's abilities.
Ligia currently lives in Northeast Philadelphia and is the first generation born in the United States within her family. Both her parents are from Colombia.
When not at PIC she loves to spend time with her daughter riding bikes, going to the movies or mall, or doing something involving nature. She loves music, arts and crafts projects, and taking pictures. She is also a strong advocate for multiculturalism, diversity, and tolerance in the classroom and center.