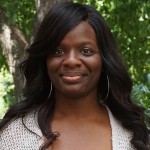 Latosha Green
Lead Teacher
I love working with children!!! Their endless energy and creativity motivates me daily to be a better mother, teacher, and overall a better person.
Latosha first came to PIC to do her classroom observation while working towards her associate's degree. From the moment she took a tour of PIC, she knew there was something special about the program.
According to Latosha, "I absolutely loved that the school was very diverse and that each child was able to express creativity and learn freely from their environment."
Latosha found the teachers at PIC to be very knowledgeable and that they really knew the children they were working with.
Latosha is currently pursuing a degree in Early Childhood Education at Eastern University.
A resident of Northeast Philadelphia, Latosha is married and has two children. Her daughter is at PIC in our Early Learning Program. In her free time she volunteers at her son's elementary school and enjoys doing hair.