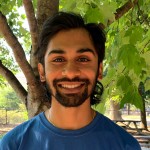 Jay Sharma
Assistant Teacher
It is deeply fulfilling to be a witness to the social and emotional growth of children.
Jay likes the culture of PIC where he finds an ethos of compassion and dedication that aligns with his own values.
He believes that as a teacher, his work is to embody peace and love, and empower young people to be confident, compassionate, and self-expressive. Just as he teaches them, they teach him to be more patient and selfless everyday.
Currently living in University City, Jay grew up in Massachusetts. When not at PIC, he enjoys gardening, reading, biking, cooking, and playing the drums.