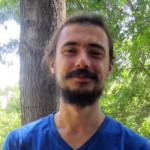 Jakob Vejr
Assistant Teacher
Play is prioritized here at PIC and play is the gateway to learning anything worth learning.
Jakob comes to PIC with prior experience working as a counselor at summer camps for arts and academics. He enjoys working with children because he believes adults can continue to learn from them.
Jakob is excited to work at PIC because he believes there is no opposition between play and learning. This offers freedom for teachers and students, and transforms the teaching role from one of instruction and discipline to one of support and creativity.
Originally from Kentucky, Jakob currently resides in the Eraserhood neighborhood of Philadelphia. Outside of his job, he enjoys playing video games and making found footage music videos. He also likes to cook and says he makes a pretty good chili. In his free time, Jakob likes to learn about philosophy and psychoanalysis.