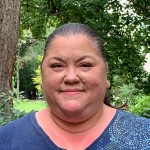 Jaime Smith
Lead Teacher
I truly enjoy working with young children and getting to be part of the amazing learning process.
For as long as I can remember I've always wanted to teach young children. Growing up in Northeast Philadelphia I had the opportunity to babysit for neighbors, as well as work at nearby daycare centers.
I've worked with all ages, but over time I realized my passion was caring for/working with infants and toddlers. I worked as a nanny for many years. Caring for newborn babies and getting to watch them grow and develop into little people was truly amazing.
After taking courses in Early Childhood Education (ECE) at Community College of Philadelphia, I enrolled in Temple University's ECE program where I earned my bachelor's degree. Once I graduated from Temple, I enrolled at Cheyney College's graduate school.
When I saw that PIC was looking for a lead infant/toddler teacher I knew it was meant to be. I knew a lot about the school and it's approach to learning.
Every day, I give high-fives and beam with pride when the kids accomplish something; smiles when they're running/crawling around; when they jump into my arms; when they see their mommies and daddies at the end of the day. I get to play a role in their joyful lives.
Outside of PIC, I enjoy cooking, shopping, movies, music, and spending time with family. I have a twin sister, and my niece Samantha is the center of my world!