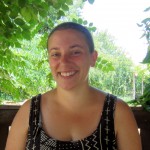 Isy Abraham-Raveson
Assistant Teacher
PIC is a nurturing, inclusive, progressive environment and I feel confident that PIC will always put the kids first.
Isy Abraham-Raveson is a teacher in the Roadrunner preschool classroom and is excited to be working with young children in a center-based setting.
Isy has been a featured speaker of PIC's Coffee & Conversation Series for families on the topic of "Talking about bodies and sexuality with young children." She has also led workshops for our preschoolers on the topic of consent and body autonomy.
Isy comes to PIC with extensive experience working with young children. She worked with children in homeless shelters in New Jersey and Massachusetts for eight years.
She also spent a year caring for five wonderful children ages 3 months to 6 years old.
Isy finds that children are brilliant! "They teach us so much about creativity, curiosity, and love."
She is honored to be one of the people they trust to keep them safe, answer their questions, and shape their values. Plus, she says, "we have a lot of fun!"
Originally from New Jersey, Isy now calls West Philly her home. When not a PIC, she plays music, reads, and teaches sexuality education workshops.