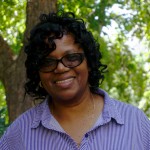 Ethel Simmons
Lead Teacher

The quality of education a person receives when they are young is vital in all life experiences.
Ethel Simmons joins PIC after spending time in the Rainbow classroom as a practicum student.
Ethel completed her studies and earned a bachelors degree in Early Childhood Education from Eastern University
Ethel brings with her over fifteen years of experience working with young children. 
While not at PIC, Ethel enjoys spending time with her family. She has five children and twelve grandchildren!