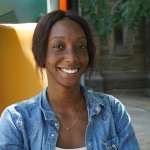 Ellese Richardson
Classroom Assistant

As an early childhood educator, I help develop the tools children need to succeed, not only in grade school, but in their adult lives as well.
Ellese Richardson wanted to become a teacher from a very young age. She was inspired by her kindergarten teacher, and after completing that school year, she knew she wanted to teach kindergarten.
She comes to PIC with a wide range of experience working with young children. She has worked with every age and grade level, including teaching kindergarten for a year!
Ellese has worked with children with disabilities and has worked with children as a volunteer at her church since she was a pre-teen.
Ellese finds PIC to be different than other schools where she has taught. She especially loves that nature is embraced and celebrated here every day.
Born and raised in West Philadelphia, Ellese now lives in Upper Darby. 
Aside from teaching, Ellese is a model, dancer, vocalist and entrepreneur. She has a passion for sports cars, and loves to travel, watch sporting events, and spend time with family.