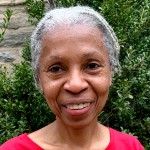 Elaine Hunter
Assistant Teacher
What I like most about children is to see their excitement when they learn new things.
Elaine Hunter joins PIC as the Lead Teacher in the Doodlebug classroom. She is excited to work with a mixed-age group of infants and young toddlers, nurture their growth, and guide their learning.
Elaine comes to PIC with plenty of expertise and experience in the field. She earned a bachelor's degree in Early Childhood Education and has worked in child care for the last seventeen years.
While pursuing her degree in early childhood, Elaine learned about several different philosophies of education. She is excited to be at PIC where the approach to educating young children does not follow a more traditional curriculum.
Elaine is originally from Jamaica. When she is not at PIC, she enjoys learning about the different cultures of the world, hanging out with family, and shopping.