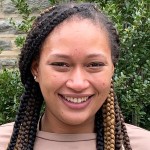 Charlese House
Assistant Teacher
Little learners deserve ample opportunities to explore through play as they navigate through this world.
she/her
Charlese House is an assistant teacher in the Butterflies classroom! She is happy to teach at PIC where the approach to learning is inspired by the Reggio Emilia approach.
Charlese is working on her associates degree in Early Childhood Education at Community College of Philadelphia and plans to pursue a bachelor's degree shortly after.
Charlese is deeply devoted to helping children achieve their goals and milestones both inside and outside of the classroom. I believe that children learn their best when they are in an environment where they feel safe and loved. The possibilities are endless when you have trust, love, and most importantly, fun!