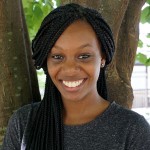 Charifa David
Classroom Assistant
It is so rewarding and refreshing to see that sparkle of knowledge resonate in a child's eyes, and know I was able to be a part of that.
As a recent Penn State student, Charifa studied history and linguistics. It was not until her sister had her first child that she knew child development was pivotal.
Having two nieces ages 5 and 1, Charifa has the opportunity to teach and lead in their growth and learning. She enjoys watching them thrive and spends many days witnessing their moments of ingenuity and discovery.
During high school, Charifa volunteered in a 3rd grade classroom in Center City. Joining the National Honor Society allowed her to work firsthand with a teacher.
Charifa was born and raised in West Philadelphia, very close to PIC. In her free time, she enjoys traveling, reading, and writing. Ultimately, she wants to earn her English degree and teach abroad to children learning English as a second language.