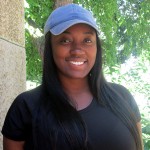 Catricia Jones
Assistant Teacher
Catricia "Cat" Jones is a student at West Chester University (PA), with significant experience as a YMCA camp counselor.
Cat also volunteered with the Dream Program, a Penn partnership in West Philadelphia that helps elementary-school kids get an early start on thinking about college and enhancing their career opportunities.
She joined PIC for the 2017 Summer Camp season and we are thrilled that she has joined us as an After School teacher.