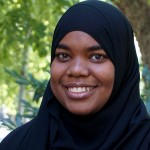 Brooke Johnson
Assistant Teacher
All children do not learn nor develop the same, so we need to create activities that meet all developmental needs.
Brooke Johnson joined PIC as an Assistant Teacher working with infants and young toddlers. A year later, she began working with an older age-group when she moved to one of PIC's new preschool classroom, which opened July 2017.
Brooke's son was her inspiration for pursuing a degree in early childhood education. She said, "Watching his development throughout the years made me want to understand more about a child's growth and development."
Watching children interact and helping them meet their age appropriate milestones are things that Brooke likes best about her chosen career.
Having grown up in West Philadelphia, Brooke does not live far from PIC. When she moved into the neighborhood she came to PIC to enroll her son for summer camp. She fell in love with the place. According to her, she loved it so much she wanted to work here.
One of the things that Brooke likes best about PIC is the emphasis on nature. She loves working with children on open ended art projects. For her nature is beautiful and capturing it makes wonderful art.
When not at PIC, Brooke enjoys spending time with her son who is enrolled in PIC's After School Center, working on arts & crafts projects, and shopping at yard sales.