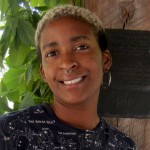 Adonis Okonkwo
Assistant Teacher and Classroom Support
Children have such expansive but also compassionate and empathetic minds.
Adonis attributes his passion for working with children to his mother who was a teacher. She always encouraged him to give childcare and children a chance.
Adonis spent many years teaching Sunday school and has also worked with children for local grassroots organizations in Philadelphia.
Adonis loves working with young children and believes they are full of wonderful ideas. He finds that "they are willing to listen to new viewpoints that can open their young minds to whole new worlds."
Before working at PIC, Adonis had heard of its accepting environment, encouraging teachers, and diverse community. He is excited to be a part of not only a school, but a community invested in creating a safe space for kids to express themselves with the guidance of grownups.
Originally from Georgia, Adonis currently resides in West Philadelphia. When not at work, he enjoys writing, watching movies, gardening, producing music, and dancing.