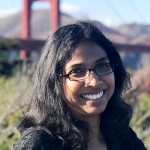 Sugirtha Stathis
University of Pennsylvania
Sugirtha Stathis is the Director of Student Programs and Communication for the Wharton School's MBA Career Management office.
A true Philly native, Sugirtha grew up near the Italian Market and now lives in University City with her husband Pete and their two children. Her daughter Zoe and son Kalin are both in PIC's school-age programs. They have been a part of the PIC community since 2015.
She has served on the Quality Committee for three years, and last year she co-chaired the PPP Task Force where she led efforts to re-envision PIC's Parent Participation Program.
Sugirtha has loved being a part of the PIC community – from the friendships she's made to the wonderful care her kids have received, and has especially enjoyed the opportunity to give back through her committee involvement. She looks forward to continuing to support the Center's important mission as a Board Member.