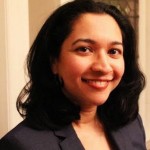 Maya Nayak
Philadelphia Board of Ethics
I want to contribute to a place my son loves and an institution that is so important in the life of our family.
Maya Nayak serves as General Counsel of the Philadelphia Board of Ethics.
Maya and her husband Chris live in the PIC neighborhood with their young son. As PIC parents, they are thrilled with all the different ways that their son learns in PIC's Early Learning program. They are continually impressed with the care and patience that his teachers show him.
Maya current serves as Board Vice President. She previously co-chaired the Governance Committee and served on the Human Resources Committee.