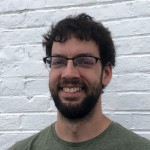 Josh Harmony
Hivemind Construction
Josh Harmony is a project manager at Hivemind Construction, a cooperative design/build company located in West Philadelphia. He has a special interest in sustainable design and construction, and applies this to his work whenever possible.
Josh is a builder, maker, handyperson, and former ceramic artist. He uses his creative and problem solving skills to tackle work, play, and parenting, and hopes to use some of this to support PIC's sustainable future.
He loves PIC's child-centered, nature-based focus and the community it sustains. He served as PIC's Facilities Repair Person for two years.
Josh lives in Philly with his wife and two children; one in the early learning program and the other who has now graduated to after school care. He spends his free time gardening, running, and thinking of ways to educate builders towards a more sustainable future.