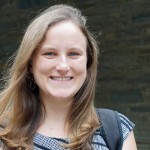 Jennifer Skirkanich
Bryn Mawr College
Jennifer is a faculty member at Bryn Mawr College where she teaches research-focused laboratory courses in biology. She and her husband Craig live in West Philadelphia with their two children, Eli who is in the After School Center and Hannah, who is in the Sunshines toddler classroom.
Jen has enjoyed watching her children grow at PIC knowing that they are in a safe, supportive, and loving environment, where they can explore the world and learn through play. She also values PIC's commitment to parent participation, diversity, community engagement, and advocacy.
She particularly appreciates PIC's dedicated teachers who devote their tremendous skill and creativity to developing a student-centered curriculum that empowers children to be natural explorers, inventive problem solvers, and caring community members.
Jen was a volunteer classroom parent (PIC Room Parent) for several years where she connected with teachers and parents in her children's classrooms. She feels that building strong relationships in the PIC community is an important part of each child's development, and is proud of PIC's efforts to engage families.
As a board member, Jen looks forward to fostering these relationships and helping families and teachers work together to provide the best experience possible at PIC.