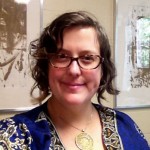 Tamara Clark
Preschool Program / Staff Tech Support Coordinator
One of my heros, Loris Malaguzzi of Reggio Emilia has a life motto: Nothing without joy. I feel like this is at the center of working with young children, teachers, and families.
Tamara comes to PIC from Abington Friends School where she taught a mixed-age group of 3-5 year olds for 11 years. While at AFS, she was also the preschool camp director for many years.
Tamara holds a bachelor's degree in Peace and Global Studies and Women's Studies from Earlham College and a master's degree in ECE from Pacific Oaks College. She frequently presents at local and national conferences, often on the topics of classroom environments, the Reggio Emilia approach, technology as a communication tool, and diversity.
From a very young age, Tamara knew that she wanted to work with young children. She is not surprised that her early entrepreneurial enterprise of babysitting for every family on the block naturally grew into a teaching career.
She looks forward to working with the teachers at PIC in her role both as Preschool Program Coordinator and Staff Tech Support Coordinator. According to Tamara, "as I come to PIC, I am excited by the deeply caring relationships I see between the children and their caregivers, the ways that the walls speak to the amazing learning that happens each day, and the vibrant community life embodied by the outdoor nature spaces and the connections to the neighborhood."
Originally from Baltimore, Tamara currently lives in Philadelphia's Germantown neighborhood where she enjoys her garden and the historic architecture of the area.