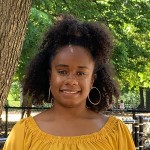 Morgan Jimenez
Enrollment Coordinator
PIC is where I was shaped and molded into the ECE educator and leader that I am today.
she/her
As PIC's Enrollment Coordinator, Morgan guides families through the enrollment process. She helps new families get to know the Center, and is a resource for families who may need support in other ways.
Morgan came to PIC as a practicum student while working towards her degree in Early Childhood Education. She was hired as a classroom assistant and it was not long before she became an Assistant Teacher, and then a Lead Teacher, most recently in the Chipmunks preschool classroom. Morgan is currently pursuing a master's in Social Work at Temple University.
For Morgan, there is no other organization that provides the same quality care for children like the Parent Infant Center. "I am always so proud to say that I am a part of this school."
A Philadelphia native, Morgan currently lives in West Philadelphia with her husband. When not at PIC, she loves to spend her time reading and shopping.