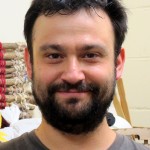 Jacob Kerner
Preschool Program Coordinator
What I love most about teaching is helping children understand the world.
Jacob first came to PIC as a part-time teacher while completing his master's degree at Penn's Graduate School of Education, and he returned as a full-time teacher inspired by PIC's mission and its close-knit community.
As a teacher, Jacob brought his love of art, reading and writing into the classroom. In his classroom, he is committed to "creating safe and creative spaces for children to grow."
As an administrator, Jacob continues in this commitment to creating safe spaces for children and supports our educators as they guide children's exploration and discovery of the world around them.
A transplant from North Carolina, Jacob now lives in West Philadelphia with his wife Lindsey and their young son Elliot who is enrolled at PIC.
When not at PIC Jacob enjoys gardening, writing, reading, swimming, and found object arts.