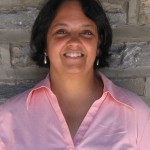 Anjali Gallup-Diaz
Director of School Age Programs
Anjali is responsible for the overall operations and administration of the After School Center and PIC Summer Camp. She works with a staff of teachers to create an interesting curriculum filled with interest-based activities for children when they are out of school. She is responsible for the quality of the program and always welcomes feedback from families.
Before coming to PIC, Anjali was Managing Director of the Chester Children's Choir, a community program that is sponsored through Swarthmore College. During her career, Anjali has also worked as a lecturer at New York University, Rutgers and Princeton.
A resident of West Philadelphia, Anjali is happy to be working with families in the neighborhood where she lives.
Outside of PIC, Anjali is the director of the Larks, a vocal ensemble that gives free community concerts in the Philadelphia area.